null PhotoniCare Wins CRAASH Prize For Excellence In Innovation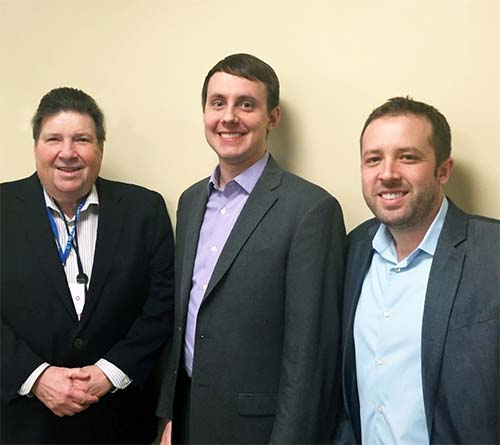 On April 8, 2016, CIMIT hosted 9 project teams during the closeout session for the winter session of its CRAASH course. Teams took to the podium to present final pitches; the culmination of 10 weeks of intensive work to accelerate their healthtech innovations out of the lab toward commercialization and clinical practice, with PhotoniCare standing out as a leader among the strong teams who participated.
PhotoniCare, a company that has developed a handheld imaging tool that sees through the eardrum to give a more accurate view of the middle ear, took home CIMIT's top award for excellence based on feedback from course mentors and fellow classmates. Currently, the frequent misdiagnosis (~50%) of ear infections in children leads to inefficient or harmful treatment choices. PhotoniCare hopes their solution will enable quick, easy, and accurate diagnosis to elicit fundamental changes to the way ear infections are managed, from the first patient visit.
"Over the course of the CRAASH program, we really grew to better understand the pain points physicians have when diagnosing and managing ear infections", said Ryan Nolan, PhotoniCare's Director of Clinical Development & Co-founder and CRAASH Entrepreneurial Lead. "Through our customer interviews, we learned a lot about not only our customer, but also their workplace ecosystems and the market opportunity as a whole. This program and the invaluable 1:1 mentor relationship helped us accelerate our efforts in a very real way."
"I really enjoyed mentoring PhotoniCare during this CRAASH session", said Joel Weinstein, CIMIT Accelerator Executive. "It was clear to me from the start that PhotoniCare's ClearView™ was a promising technology that addressed a compelling clinical need and was being developed by an energetic, enthusiastic, team who were also good listeners."
Other projects during the winter session included a point-of-care solution for routine diagnostics, a patch blood pressure monitoring system, a novel platform for trans-cardiac, direct-vision, beating-heart surgery, a solution to ensure patients at risk of anaphylaxis have an epinephrine auto-injector with them at all times, a device which can selectively remove cytokines in critically ill patients, a wearable device to improve sleep without drugs, a microfluidic chip to extract, amplify and detect HPV, and a smartphone device to help read TB tests remotely.
"The CRAASH course, through hard work, commitment, and expert mentorship, helps teams to refine the thinking around their healthtech projects", said Mike Dempsey, CIMIT's Entrepreneur in Residence and Accelerator Program Leader. "At the end of this 10-week session, I could clearly see each team had made measured progress in moving their projects forward along the path to commercialization."